Son güncelleme 2 years önce Gülce Genç tarafından gerçekleştirildi.
The question of what is a meta description is a question that those interested in SEO are curious about. The short snippet that shows beneath your website on the SERP and offers information about your page is known as an SEO meta description. The meta description is an HTML tag that you may use to describe a particular article or page on your website. You can use SEO meta description to explain what your page is about. If you're lucky, Google will display it in the search results beneath your page's title. SEO meta description gives you the chance to persuade search engine users that your page will provide exactly what they're looking for. Its purpose is to give readers a quick synopsis of the material on your website so they can figure out whether it'll answer their inquiry. With the exception of experimental periods, such as when Google temporarily expanded the meta description length to 320 characters, the meta description length has traditionally been capped at 155 characters. Since there are many issues that need attention, you can reach the results you want by working with an SEO Firm.
What is a Meta Description?
The question of what is a meta description can be answered as follows:A meta description is an HTML tag that include 155 to 160 character summary that explains the content of your webpage. When the meta description additionally includes the keywords being sought, search engines display it in the search results. Meta descriptions, unlike the page title, are not an SEO ranking factor, but they do persuade people to click through to a page and are an important aspect of on-page SEO. You'll find them in the code of a page as for.
When you enter a search query into Google—for example, 'temporary tattoos'—the algorithm returns results on the search engine results page (SERP). The 'title tag' is the blue text at the top. They are the webpage's title. A page description of no more than 155 characters appears underneath them. This is the SEO meta description for the page.
Why are Meta Descriptions Significant?
You need to know why this is as important as what is a meta description question. Its goal is simple. It must persuade someone looking on Google with a certain search keyword to click your link. Meta descriptions exist to increase search engine click-throughs. According to search engines, the meta description has no direct SEO value. Also, it is not factored into their ranking mechanism. However, Google considers your click-through rate when determining whether or not you are a good result. If more people click on your result, Google deems you a good result and will boost you up the results based on your position. This is why improving your SEO meta description, as well as your titles, is critical.
SEO meta description tags may have a big influence on how well your website ranks in search engines. One value stands out in the SEO meta description: 'Organic ad text' is what your meta description does. As a result, the SEO meta description is just as crucial as the ad content. An intriguing meta description has the potential to increase your organic search results' click-through rate. Even if your rating stays the same, this means extra traffic for you.
Why should I care about meta description length?
Since you know the answer to the question of what is a meta description, you should also know about its length. Because SEO meta description shows alongside your title and URL on results pages, it has the potential to increase or decrease the click-through rates of your results. According to research, including the term in the meta description's body is a relevant indication for search engines, which can enhance your ranks.
It's not a significant signal, but it may undoubtedly help if utilized naturally instead of jamming keywords into your descriptions. Make use of the chance to market your website with a compelling message to searchers, since your meta description has the most real estate in your search result.
To prevent having part of your meta description chopped off by the search engine and look incomplete in the SERP, remain under the character restriction for the meta description length.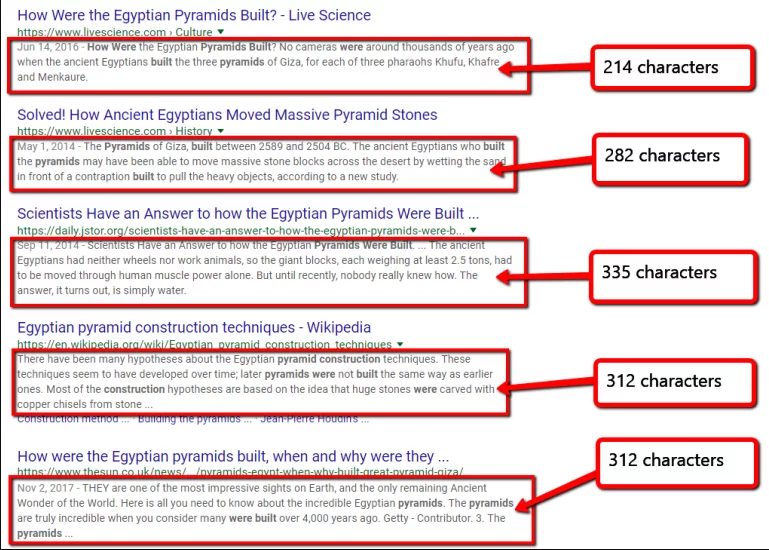 Keeping the meta description to a reasonable meta description length will aid in attracting customers' attention. When it comes to SEO management, the meta description is a useful tool for both users and search engines. When the page displays on the SERP, users will check to see if it answers their questions. A well-written description can help you attract more visitors. As a result, your traffic and engagement will increase, and your SERP ranks will improve.
How to Craft the Right SEO Meta Description?
Now that you've learned what is a meta description, you're undoubtedly wondering how to use this information for your own business. Because SERP click-through rate is considered a possible ranking factor, the ideal strategy to make your meta descriptions SEO-friendly is to write them with the goal of generating more clicks.
To attract a consumer to call a phone number or come to an address to buy a product in person, traditional print advertising employed headlines and taglines. Your page title is your headline, your meta description is your tagline, and the URL is the address in your search results. Because an SEO meta description is effectively a micro-pitch for a website, you should use dynamic language to get visitors to click on your result.
A decent SEO meta description persuades visitors that your website is the best match for their search. However, in order to achieve the greatest results, you must first understand what consumers are looking for. What is the goal of their search? Is there a query they're seeking an answer to? Is there a product they're looking for? Make a list of what makes your product unique and why they should buy it from you. However, working with a professional SEO Agency will give you more effective results.
Accuracy and quality
The first important consideration for a good description is always accuracy. The summary should accurately represent the content and encourage people to click on this specific link. Keep in mind that keyword stuffing or employing merely lists of keywords, like the rest of your material, gives no context or useful information for the user. This results in a bad user experience and a lack of clicks. Meta descriptions should be high-quality content snippets.
This is a crucial point. If you utilize SEO meta description to deceive users into clicking on your result, Google will find out. If you do it, they may even punish you. Inaccurate descriptions will almost surely increase your bounce rate. As a consequence, people will lose trust in your company. That's why the SEO meta description should match the page's content.
Character limits
The most significant material should be near the start of the description tag. The meta description length is not limited by Google, however, the amount of characters displayed to visitors on the SERP is. The meta description length should be between 120 and 150 characters. This guarantees that your whole description will be shown on both desktop and mobile devices. If a component of the SEO meta description text matches the search query, Google is more likely to utilize it and highlight it in the search results. This will make your website's link much more appealing. Synonyms are occasionally highlighted by Google.
Consistency and originality
Because SEO meta description isn't always visible to visitors, site owners are prone to overlook their significance. Especially given that the DMOZ will no longer be involved in the process, businesses should ensure that every page has a unique, high-quality SEO meta description, especially for pages with no text. It is not recommended that the same description be used on various pages of the website. Because each page of content provides a unique experience for the user, the meta description should be similarly distinct and communicate what makes the page significant and relevant.
The user experience in Google will be harmed if your meta description is the same as that of other pages. Even if the names of your pages change, they will all look to be the same since the descriptions are the same. Rather than creating unnecessary meta descriptions, you should leave them blank. Google will select a snippet from the page that contains the query's keyword. As a result, providing a unique meta description for each page you want to rank with is the best practice.
Use a call to action
Your sales text is the meta description. 'Learn more, Get it now, and Try it for Free' are useful, and you can use them as well. Consider the description to be the body copy of a search advertisement. Use action language terms like 'Learn how to…', 'Discover how to…', 'Read about…', 'Take advantage…', and 'Sign up for a free trial…' to describe what the website has to offer.
Robots directives when needed
The NOODP robotics directive will no longer be utilized because the DMOZ is no longer active. However, if site owners wish to prohibit Google from showing any form of snippet in the SERP, they can use the "nosnippet" robots directive. As a result, the result will just display the title. The snippets that display beneath your website links on the SERP are critical for attracting attention and driving traffic to your site. They show how important you are to potential readers.